We are delighted to offer Fast and Free shipping across the United States (Contiguous) and Canadian Provinces! Our goal is to get your order to you as quickly as possible, and at no extra cost. If you have any questions or live within those areas that are not part of it please don't hesitate to contact us. We are here to help!
UPS
FedEx
DHL
Purolator (Applicable For Canada Only)
Canpar (Applicable For Canada Only)
Once we process a refund, it is immediate and you'll get an email with the refund issued. However, it can take up to 10 business days to reflect in your account depending the Bank and the payment method used at checkout.
Of course we do! We offer one year manufacturing warranty for all TLN Wooden Climbers. We trust in our craftsmanship and we want our products to be safe, durable and stay with your kids as they grow. If you have any concern or issue with our products kindly contact us. More info HERE.
The minimum age is 3 years old, you can find all the weight and age limitations on each product description and images. More info HERE.
Yes, we do. We offer FREE star knobs in case you lose them. Please contact us with your order number and shipping address.
The Color Folder is our original playmat (it has been loved by 5,000+ parents). It has 9 layers of recyclable premium inner foams and FDA compliant vegan leather cover. The Deluxe is very similar to the Color Folder, but it has an additional layer of silicon on top of the original Color Folder fabric, which provides a slightly more grippy feel and premium appearance. Both have differences in prices, sizes and color options.
Yes, our mat is free from PVC, EVA, TPA, BPA, Phthalate, Fire Retardants, Formamide, Formaldehyde, and other VOC's.

For more detailed information, please click here. 

Alzipmat outer surface is FDA compliant, meaning the material is food-grade and safe to be used for direct food contact. As you let your baby lick on his plate, our mat is completely safe for your baby.
Our mats and babyrooms are made in South Korea by ALZiP Korea.
The inner foam panels are inserted into the fabric cover by human hands. Initially parts of a panel might hover slightly, and there could be a slight gap between different panels. Usually within 1-2 months, panels find their perfect place inside the cover, and mat will become flat and gaps will disappear.
I just unboxed the playmat and it appears to be bent slightly. Is it defective?
The inner foam can become bent during storage and shipping. This can be fixed easily by bending the mat slightly in the opposite direction.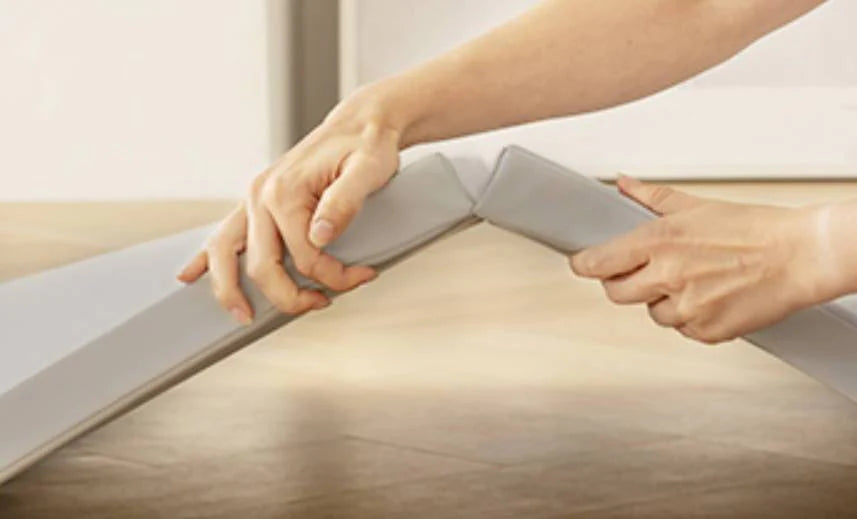 The surface seems bumpy?
The 9 layers of inner foam are attached only with heat to avoid any toxicity from using chemical adhesives. The heat attachment technology could leave wavy marks on the surface. It is normal from manufacturing and will go away within 1-2 months.